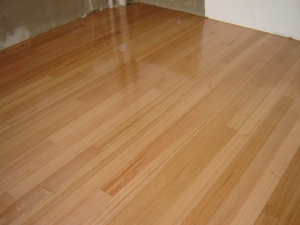 Natural Timber Flooring adds warmth, style and value to your investment or your home.
Solid timber flooring comes in a wide range of thickness's and widths allowing you to custom fit the product to your home, apartment or office.
A few Australian Hardwoods would include your Blackbutts, Eastern States as well as your WA Blackbutt, and if you're inclined for a blend of timbers, clients can choose from a wide range of timbers e.g.  Chestnut or wormy chestnut or other mixed species
Prices of solid timber varies due to specie and grade.
The grades of the timber are listed below:
Select grade
The least amount of feature is present in specie, you would still have some feature but primarily it would be the cleanest. Approximately up to 5% of gum or knots in the face of specie.
Standard
Means a higher percentage of gum veins, approximately 20% bird's eyes, veins and natural feature to the specie.
Feature
Is a range where the veins & knots may be heavy up to 40% and will vary according to species.
In modern times, terms such as select standard or colonial grade, heritage grade are a combination and usually is directed by the mill for a particular run of product.
Grades and grade features is in AS 2796.
Varying widths and random lengths can give the appearance that the area is larger than it is, thus making it a popular choice for small dwellings.
The lengths of timber are random, generally 400mm would be the shortest and 3200mm could be the longest depending on specie, so in one shoulder pack of timber with a 2m2 coverage you could have two 400mm lengths, two 1200mm lengths etc. However, discontinued runs from the mill or batches, clients sometimes can find discounted prices for short lengths of timber. Short length of timber would be a high percentage of smaller lengths. Smaller lengths means more joins and clients should expect this.
The thickness of timber will vary according to profile and specie. Generally speaking 12mm would be the most common, however 13mm and 14mm have been more common in recent years. 19mm is generally associated with 130mm width. 19mm boards have approximately the same sanding life as a 12mm board. On the 19mm board the tongue is approximately 6mm from the top side of the board. On a 12mm thick board the tongue could be four or five millimetres from the top. Each mill would have their own specific profile, thus a timber supplier from "A" will not interlock with a timber from supplier "B".
Timber Stains
Some Natural timbers are well suited for staining, for example Tasmanian Oak or Messmate, French and American Oak to name a few, the range of stains will vary from Black Japan to Mocca. Clients should be aware that swatches can vary and be different to the real product. Westech Flooring has a company policy, that when floors are to be stained, 5 swatches are provided to narrow the range. When the floor is installed, a section is sanded and prepared as per normal. This area is coated with the five agreed stains and then coated once. When dried the client can choose the most suitable stain. This process has proven to be extremely effective.
Contact us for a consultation
Westech Flooring, as part of the initial consultation, covers all the options so the client can make the best decision on their SOLID TIMBER FLOOR INVESTMENT.