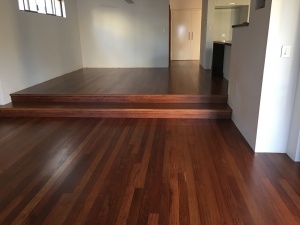 Where does recycled timber flooring come from?
Recycled timber flooring is basically salvage timber flooring. The process is unique and varies according to supplier.
For example, the species we are referring to are Jarrah, WA Blackbutt, Wandoo and other 19mm timbers including Baltic Pine.
Back in the 1950's in Western Australia when houses were built, these 19mm planks were installed over joist, most likely linoleum or carpet would have been installed over the timber planks. During modern times this house would be scheduled for demolition, the demolition company would remove the timber planks. Generally the planks are de-nailed and packaged for sale. The timber is purchased and installed either the direct stick method or batons or joist method. Clients should be hesitant about purchasing Recycled Timber that have had the nails cut off from the bottom, leaving the nail still inside the timber.
What to expect from recycled timber

Clients can expect gaps and light damage as this floor would have been walked or lived on for years therefore there would be more nail holes than a new floor. During the sand and polish stage the floor would be flood filled, putty or a mixture of solution and saw dust is trowelled into the gaps to conceal them. Clients should be aware that if the recycled floor had gaps when it was initially installed in the 1950's then it will most definitely have gaps when installed in the present day.
When available clients can choose from a wide range of lengths and sizes. Common back in the 1950's was end matched timber. End matched timber is short or random lengths joined continuously and have the appearance of a long length. In some cases old growth Jarrah planks can be in excess of 4.5 linear meters in length.
Re-milled flooring is a term used when the salvage company acquires the joist or bearers from a property and mills them into flooring. This flooring could either be 12mm or 19mm thick. Clients can expect those beautiful old growth tones. Jarrah and WA Blackbutt are the most common.
Recycled wandoo is natural and extremely hard wearing thus making it ideal for re-installation, this specie is extremely heavy and resistant to damage on the surface.
Recycled timber that has previously been sanded and polished can be difficult to install because the polyurethane may have seeped into the tongue and groves, thus making it difficult to mate together. In some cases the tongue and groves need to be cleaned out at a cost to the client. Clients should expect that some tongue and groves will be broken, however should not pose any structural defect.
Recycled timber is very popular for many different reasons, most commonly expressed by clients, is that the old growth colour and characteristics cannot be matched by plantation timber. Another reason is when houses that already have old growth timber are renovated or extended, old growth or recycled timber will best match when sanded and polished. Using plantation timber where old growth timber is already presence may be dissimilar.
Contact us to find out more
Westech Flooring has been installing old growth timber, recycled timber and re-milled timber since its start up in 2003. When engaged by the client, we consult you, the client on these important factors.